As an advisor to business owners do you want to help your clients excel at all stages of their business lifecycle? 
Then you should join the Spirit West Ecosystem.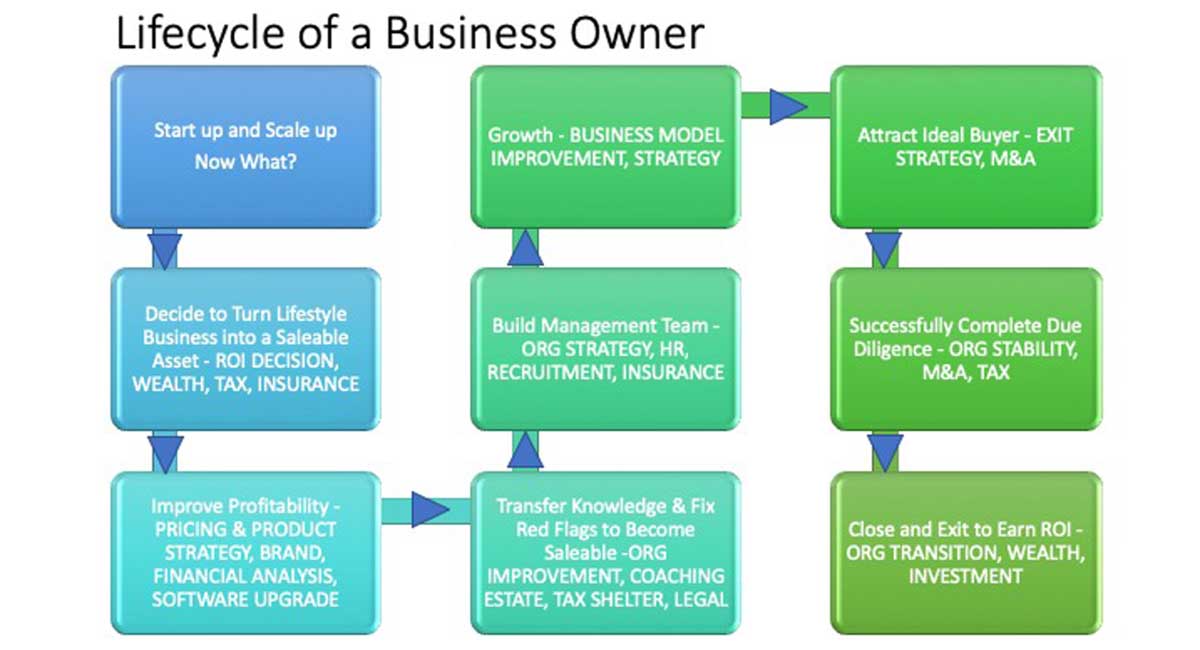 We work with advisors who understand all the stages of value preparation so they become proficient in explaining to their clients the essential steps necessary to earn a return on their investment from their business. 
We steer our clients from scale up and growth through the decision-making process to turn their lifestyle business into a wealth generating asset they can sell. Along the way, we need trusted advisors who know what we are doing and why, so that your clients, and our clientsare set up for success through all the stages. They receive actionable advice at the right advice to protect them and minimize their numerous challenges before and during the sale transaction, to earn that ROI from the sale. 
What about the owners you serve. Shouldn't your clients be given the same opportunity to decide the future they want? Our partners play a vital role in giving their own clients a wake-up call: 
"If you want to be able to sell your business one day, instead of just closing it due to circumstances beyond your control, then you must ensure your business is transferrable and saleable long before. The right time to sell is when your ideal buyer is looking to acquire, not when you are turning a certain age."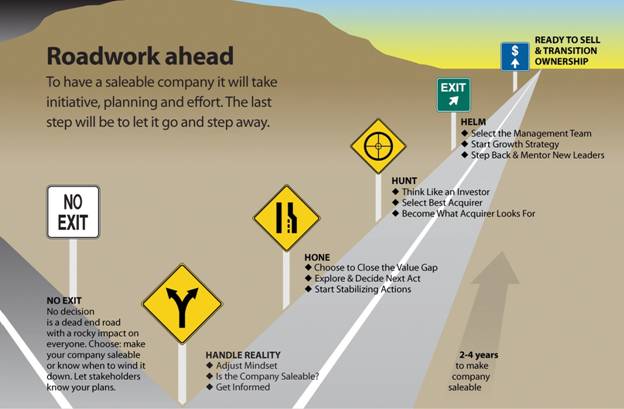 As tax, estate, corporate, mergers and acquisitions, accounting, HR, insurance, wealth, business strategy, coaches and financial advisors, we can provide a powerful ecosystem for our business clients so that they are positioned for the optimal outcome that suits all stakeholders.
Tech Community Ecosystems
The tech community has advisors that work together at all stages of a company and founder's life. These advisors work hand in hand, helping the owner develop, grow, mature and exit… and repeat, creating wealth and value for all. It is a well understood game where advisors interact actively to support growth and founders and teams accept advisors as part of the journey. 
This ecosystem does not exist for non-tech business owners. They are often not aware they can't sell a business that has yet to be made transferrable and saleable. 
In fact, if a non-tech owner doesn't have a professional investor involved, they never discover how to earn ROI. 
Non-tech owners tend to seek advice at a time when their business is not thriving, when circumstances have diminished their options, making the transition to a saleable asset more difficult. 
Be that trusted advisor who alerts your clients long before circumstances cut off exit options, of the opportunities awaiting a prepared owner who has made an informed decision to become saleable.
Why join our ecosystem? 
The needs of an owner making their business saleable are substantial. Your firm will be tapped to provide more services during this process than it would for a client not embarking on this transition.
Your referral network will expand exponentially, bringing you more clients who value the benefits of being taken care of by a collaborative team working lock step.
All members of the network share the same language and have the owners' best interests in mind. We collaborate on strategy, bring each other in at the right time and work together over the different stages of the process.
We work interdependently, collaborating when necessary and bringing each other in at the right time when services are needed.
Your partners are proactive referrers. We learn how to accurately represent your services so that the message is clear to an owner about your firm's value and importance in their next step. Your new client has immediate confidence and trust in you.
Do your duty for our local economies. You may be aware that in the US (3.5 million) and Canada (350,000) 50% of all companies, are owned by aging owners. While surveys since 2006 generally report that 70% of aging owners intend to exit within 5 years, that has not happened. Sales statistics show no hockey stick trend. While there is a reported $10 trillion in wealth looking to acquire companies, they only want those businesses that have been made saleable. Those companies are in short supply. But just imagine what would happen to our economy, supply chains, our neighbourhoods and our employment options if thousands of businesses just closed over the next few years.
If you would like to explore a collaboration with our ecosystem, please complete this form and we'll be in touch to arrange a time to speak.