Are you on this list? 50% of all business owners with employees in North America are hoping to transition ownership in this decade. Many won't be able to. What does this fact do for your sense of security?
You don't want to leave your financial future to chance. You will want to claim your wealth by intentionally steering your business to its next owner. Many businesses with employees are not saleable in their current condition, even to managers, new partners, family or employees. By being proactive now, your company, employees and stakeholders will have a bright future and you will have greater certainty of finding a qualified buyer.
What do we mean by saleable? Your company will continue to thrive long after you have gone on to your exciting next act because of key changes you made AND it is attractive as investment to its next owner.
Making a business saleable is not the same as succession planning. There is a lot to do and many decisions to make long before you sell your business. Get started on the right track by getting our Make Your Business Saleable Resource System.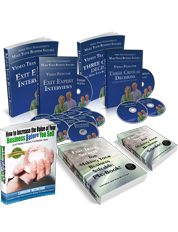 Includes Fast-Track Secrets for Making Your Business Saleable Book and Playbook, How to Increase the Value of Your Business BEFORE You Sell … and Make it More Profitable Now, and a DVD series of 19 video interviews with all the advisors an owner will need on the journey to becoming saleable.
Topics include identifying the company's ideal buyer, working with an intermediary, closing the deal and moving on to their next act in life, an owner that didn't find a buyer and what he had to do to change his circumstances. Includes bound transcripts of all interviews..
This comprehensive series provides business owners and their financial advisors with critical perspectives never revealed before from how buyers evaluate businesses to the steps in an exit planning process. Learn from the buyers themselves, the wealth managers, bankers, M&A advisors, transition coaches, lawyers and leadership specialists. Owning a saleable company is like holding a winning lottery ticket. Not making it saleable is like losing your winning lottery ticket.
Are You Ready to Claim Your Wealth?
What's in your future? You might be asking if you will be able to sell your business one day (and if you're not, how will you 'end' your commitment to the company?). That is the standard Question we are frequently asked. But its not the only question you should be asking. What you really SHOULD BE ASKING (SAQ Should Ask Questions) is:
SAQ: Given that it takes 2-4 years of preparation work to make a business attractive to the right kind of buyer, what should I be doing now to be ready?
ANSWER: You need to think about what is important for you, your shareholders, the future of your company and its stakeholders and make some critical decisions. Then you need to create an action plan we call your Saleability Blueprint for all the work you will do personally and organizationally to be ready for sale. It's time to invest in learning what you want, and what you need to do to claim your wealth so you can build your blueprint.
SAQ: Times have been tough. Can I really consider selling soon? What is the best investment I can make to actually increase profitability?
ANSWER: By learning how to make your business saleable and then making the right adjustments you can increase profitability. How? What makes a business attractive to investors and buyers are the very attributes that we teach you to make your company more profitable. You can learn the techniques for both claiming your wealth and increasing profitability in the book Fast Track Secrets for Making your Business Saleable, available from Amazon.
SAQ: What is important about knowing the kind of buyer that would want to acquire my company?
ANSWER: Different buyers have very different investment criteria. If your company is the best acquisition for a specific buyer, then you will want to make sure your company is exactly what they are looking for so that a.) you stand out from other acquisitions and b.) you are offered a premium for having all the attributes they look for. This is true if you want to sell to a manager or another company.
SAQ – If I think my managers or employees might like to buy the company, what should I be doing to prepare for that event?
ANSWER: If you are thinking about selling to employees or a manager, it can take longer than 2-4 years to make the company transferrable and help the employees get the financing to buy out you or your partners. You may have to use the company's cash flow with financing to help the manager pay you out over time. Lots of details and landmines in getting ready for this transaction.
SAQ: If I want a family member to take over, what should I be putting in place and when?
ANSWER: Want your company to continue to be a thriving place to work after that hand off? Then make that transition arms length and require that the qualified family member actually buys you out. Depending on their financial situation, you may need to use company cash flow to make the buy out. The company will have to qualify for financing. Time frame 2-7 years. There's more to this option that you need to consider. You can plan your exit, build your blueprint and learn from all of the experts using the Make Your Business Saleable Resource System.
How many "Should Know Answers" did you already know?
There is much more to do to prepare a company for sale than your accountant, investment banker, business broker, wealth management advisor, banker, lawyer or best friend can tell you. You don't want to be caught fighting circumstances beyond your control when it comes time to selling the biggest asset you own. None of these experts can help sell a business that isn't saleable, especially when you need a buyer within the next 6 months to a year.
Don't leave money on the table or your future at risk. Learn how to do it right and be more profitable in the meantime as you build your saleability blueprint. Go to www.MakeYourBusinessSaleable.com for some great free content in how.
Ready to get started building your Saleability Blueprint but want to make sure your company could be saleable?
Talk To One of the Experts On Our Team.



Wishing you a Saleable Company.